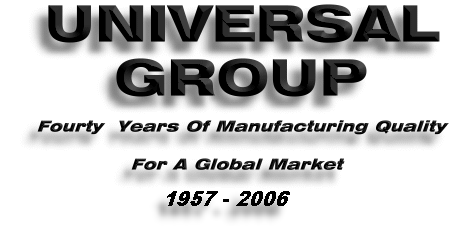 The UNIVERSAL GROUP is made up of .UNIVERSAL S.A. de C.V., manufacturing equipment for the agricultural and construction industries, and UNIVERSAL METAL S.A. de C.V., manufacturing truck bodies and equipment to service the refuse transportation industry. Located in Mexicali, Baja California, Mexico , The UNIVERSAL GROUP started manufacturing agricultural and construction equipment in 1957and since then equipment bearing the UNIVERSAL logo has stood for outstanding quality and service. In the last 40 years, the UNIVERSAL GROUP has become a leading manufacturer of heavy industrial equipment supplying the international market.
The UNIVERSAL GROUP UNIVERSAL GROUP also has Office Space, Warehousing and Metal Fabrication Plant Facilities for lease in Mexicali and across the border in Calexico.
For more specific information or information regarding prices and or delivery contact us by e-mail at: service@universalgroup.com
Send mail to CompanyWebmaster with questions or comments about this web site.